5G, Security, and the Internet of Things
Wednesday, July 22
1:00 – 2:30pm EDT
The next generation of wireless service, or 5G, is the focus of much attention and debate around the world. But while much of the focus may be on faster smartphones, 5G has gone from the subject of tech blog chatter to an essential aspect of foreign policy and international diplomacy. As the United States and China wrestle for global leadership in technology, how will national security and international standards influence the development of 5G networks? And how could virtualized and open networks impact the rollout of the Internet of Things—from connected cars to connected coffee makers—as billions of more consumer devices come online?
Christopher C. Krebs
Director, Cybersecurity and Infrastructure Security Agency (CISA), Department of Homeland Security
View Bio
Christopher Krebs serves as the first director of the Department of Homeland Security's Cybersecurity and Infrastructure Security Agency (CISA). Mr. Krebs was originally sworn in on June 15, 2018 as the Under Secretary for the predecessor of CISA, the National Protection and Programs Directorate (NPPD). Mr. Krebs was nominated for that position by President Trump in February 2018.
Before serving as CISA Director, Mr. Krebs was appointed in August 2017 as the Assistant Secretary for Infrastructure Protection. In the absence of a permanent NPPD Under Secretary at the time, Mr. Krebs took on the role of serving as the Senior Official Performing the Duties of the Under Secretary for NPPD until he was subsequently nominated as the Under Secretary and confirmed by the Senate the following year.
Mr. Krebs joined DHS in March 2017, first serving as Senior Counselor to the Secretary, where he advised DHS leadership on a range of cybersecurity, critical infrastructure, and national resilience issues. Prior to coming to DHS, he was a member of Microsoft's U.S. Government Affairs team as the Director for Cybersecurity Policy, where he led Microsoft's U.S. policy work on cybersecurity and technology issues. Before Microsoft, Mr. Krebs advised industry and Federal, State, and local government customers on a range of cybersecurity and risk management issues. This is his second tour working at DHS, previously serving as the Senior Advisor to the Assistant Secretary for Infrastructure Protection and playing a formative role in a number of national and international risk management programs.
As Director, Mr. Krebs oversees CISA's efforts to defend civilian networks, manage systemic risk to National critical functions, and work with stakeholders to raise the security baseline of the Nation's cyber and physical infrastructure.
Mr. Krebs holds a bachelor's degree in environmental sciences from the University of Virginia and a J.D. from the Antonin Scalia Law School at George Mason University.
Ajit Pai
Chairman of the Federal Communications Commission
View Bio
Ajit Pai is the Chairman of the Federal Communications Commission. He was designated Chairman by President Donald Trump in January 2017. He had previously served as Commissioner at the FCC, appointed by then-President Barack Obama and confirmed unanimously by the U.S. Senate in May 2012. Earlier in his career, he served in various positions of increasing responsibility at the FCC, the U.S. Department of Justice, and the U.S. Senate. Before becoming a Commissioner, he worked as a Partner at the law firm of Jenner & Block and served as in-house counsel at a telecommunications company. Since taking the helm at the FCC, Chairman Pai has championed regulatory modernization, updating rules to match marketplace realities and aiming to deliver consumer value through market-based solutions instead of preemptive regulation. He also has made the FCC more transparent, nimble, and accessible.
Chairman Pai graduated with honors from Harvard University in 1994 and from the University of Chicago Law School in 1997, where he was an editor of the University of Chicago Law Review and won the Thomas R. Mulroy Prize. In 2010, Pai was one of 55 individuals nationwide chosen for the 2011 Marshall Memorial Fellowship, a leadership development initiative of the German Marshall Fund of the United States. The son of immigrants from India, Chairman Pai grew up in Parsons, Kansas.
Shane Tews
President, Logan Circle Strategies
View Bio
Shane Tews is a visiting fellow at the American Enterprise Institute managing the Global Internet Strategy program that focuses on cyber security and Internet governance as part of AEI's Center for Internet, Communications, and Technology Policy. Along with her work at AEI Shane in the President of Logan Circle Strategies working with her clients to create a coordinated public policy approach to Information Communications and Technology policies and cyber security and cyber governance strategies on a global scale. Additionally, Shane manages many of the relationships with Congress, the Administration, Foreign Governments, Think Tanks and Trade Associations on behalf of Vrge Communications. Shane was formerly Vice President of Global Public Policy and Government Relations for Verisign, Inc. where she was responsible for the strategic planning and daily management of the Policy and Government Relations efforts for Verisign globally. Shane represented Verisign's interest before United States and International government officials in the Information Communications and Technology Sector where she participated in the development of e-commerce policies with International governing bodies, National and State Legislators, International, National and Regional trade associations and Information Technology coalitions. Shane is Vice-Chair of the Board of Directors for the Internet Education Foundation and previously served as the co-Chair of the Internet Governance Forum USA (IGF-USA). She is also currently a board member of TechFreedom and GlobalWIN. She formerly sat on several Information Technology Boards including the European American Business Council, the Information Technology Industry Council, the Information Technology Industry Foundation, and the United States Telecommunications Training Institute.
Paul Eisler
Director of Cybersecurity, USTelecom
View Bio
Paul Eisler is the Director of Cybersecurity at USTelecom. An attorney with a decade of experience in cyber policy, he serves as legal advisor to the Council to Secure the Digital Economy (CSDE), a partnership of 13 global ICT companies that publish influential security guidance, and Vice Chair of the Communications Sector Coordinating Council (CSCC) Cybersecurity Committee, which facilitates public-private cyber initiatives across the U.S. government.
Since CSDE's founding, Paul has been the principal editor and drafter of the CSDE International Botnet and IoT Security Guide, and his research on IoT practices laid the groundwork for the C2 Consensus on IoT Device Security Baseline Capabilities, the leading industry agreement on IoT security endorsed by 20 major technology organizations, including industry associations, consortia, and standards bodies. Paul is also the principal editor and drafter of the CSDE report Cyber Crisis: Foundations of Multi-Stakeholder Coordination, which aims to improve incident response capabilities in 12 high-stakes scenarios involving national security and public safety.
In addition, Paul provides legal and strategic guidance to the Communications Sector Co-Chair of the DHS ICT Supply Chain Risk Management Task Force under the National Risk Management Center. The 60-person task force is developing recommendations to deal with the nation's critical infrastructure supply chain risk and includes representatives from over a dozen federal agencies, 20 IT organizations, and 20 communications companies and associations.
Prior to joining USTelecom, Paul worked as a legal consultant to support trade associations and businesses in the communications and IT sectors. He received his law degree with honors from American University Washington College of Law, where he served on the American University Law Review and, at age 20, was distinguished as the law school's youngest J.D. candidate. He also worked for his alma mater as a Legal Research Fellow, concentrating on economic policies of the European Union.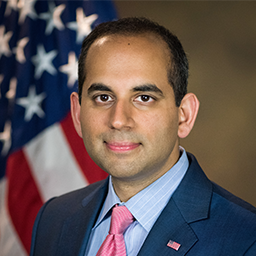 Sujit Raman
Associate Deputy Attorney General, U.S. Department of Justice
View Bio
Sujit Raman serves as Associate Deputy Attorney General in the U.S. Department of Justice. In this role, he assists the Attorney General and Deputy Attorney General in their oversight of the nation's cyber-related criminal and national security investigations and prosecutions, and chairs the Attorney General's Cyber-Digital Task Force. He also helps oversee the Department's cyber-related policy development; represents the Department on cyber matters before the National Security Council; and has testified before the U.S. Senate about the federal government's cyber priorities.
Before joining the Department of Justice's senior leadership staff, Mr. Raman served for over eight years as a federal prosecutor. In this role, he gained extensive courtroom experience, led a number of international fraud, public corruption, and national security matters, and served as the government's counsel of record for several leading cases at the intersection of law, technology, and privacy. Mr. Raman was educated at Harvard College, Harvard Law School, and the University of Bristol (UK), where he studied as a Marshall Scholar and served as head coach of the women's varsity rowing program.
Diane Rinaldo
Senior Vice President, Beacon Global Strategies LLC
View Bio
Ms. Rinaldo is one of the country's leading authorities on 5G, telecommunications supply chain security, privacy, and Internet governance. Prior to joining BGS, Ms. Rinaldo served as Acting Administrator of the National Telecommunications and Information Administration and Acting Assistant Secretary of Commerce for Communications and Information. During her time at NTIA, Ms. Rinaldo directed the Administration's efforts on privacy; testified in the House of Representatives and Senate on 5G and Internet security issues; served as a principal advising the White House and Congress on 5G and supply chain; as well as other successes in education and deployment of Internet access around the world.
Prior to her Executive Branch service, Ms. Rinaldo served on the House Permanent Select Committee on Intelligence, where she focused on Congress' landmark cybersecurity legislation, the Cybersecurity Act of 2015. She also served as Congress' oversight and budget monitor for the National Security Agency and the defense network systems, and as Deputy Chief of Staff to Congressman Mike Rogers as his top technology policy staffer.
Ms. Rinaldo also spent time in the private sector as the Director of Government Affairs and cyber policy for SAP, and as a Vice President at a top consulting firm in Washington, DC.
Recognized for her work on cybersecurity, Rinaldo was awarded the Executive Women's Forum's 2016 Influencer of the Year award; was named one of the top ten people in Washington, D.C. impacting cyber legislation; and has consulted on movies and television.
She earned a bachelor's degree in Political Science from the University of Maine and an Executive Certificate from Harvard University for Cyber Studies.