Balancing the Governance of AI: the benefits and challenges of current and future applications
Artificial intelligence has the potential to radically transform industries, governments, economies and societies. This comes with great promise, but also limitations, risks, and harms. Using several current and future applications, this panel will examine important questions about the when and where the governance of Artificial Intelligence should occur. Ultimately, what is the right balance between innovation and precaution to ensure that we realize the benefits, while limiting the harms of AI?
Jess Fjeld
Assistant Director, Cyberlaw Clinic, Berkman Klein Center for Internet & Society at Harvard Law School
View Bio
Jessica Fjeld is a Clinical Instructor at Harvard Law School's Cyberlaw Clinic. She works in diverse areas including intellectual property, media and entertainment (particularly public media), freedom of expression, and law and policy relating to government and nonprofit entities. Before joining the Clinic, Jessica worked in Business & Legal Affairs for WGBH Educational Foundation, and as an associate at Skadden, Arps, Slate, Meagher & Flom LLP focused in corporate transactions. She received a JD from Columbia Law School, where she was a James Kent Scholar and Managing Editor of the Journal of Law and the Arts; an MFA in Poetry from the University of Massachusetts; and a BA from Columbia University.
Kathryn Krolopp
Independent Analyst and Researcher
View Bio
Kathryn Krolopp is an independent analyst and researcher based in Washington, D.C. She has helped some of the world's leading media, entertainment, and retail companies implement AI and machine learning capabilities across their organizations. Additionally, Kathryn has worked as an IT consultant helping U.S. Federal departments and agencies understand how to design and implement big data and advanced analytics initiatives. For her clients, she has developed frameworks, whitepapers, and strategies to effectively reimagine and refresh their technology. Kathryn received an MSt from the University of Oxford; a BA from the University of California, Berkeley; and a certificate in Terrorism Studies with a focus on Cybersecurity from the University of St. Andrews.
Lee McKnight
Associate Professor, School of Information Studies, Syracuse University
View Bio
Lee W.McKnight is an Associate Professor in the iSchool (The School of Information Studies), Syracuse University, Faculty Advisor to the Worldwide Innovation Technology and Entrepreneurship Club (WiTec), and an Affiliate of the Institute for National Security and Counterterrorism (INSTC). Lee lectures annually at MIT since 1998. Lee was Principal Investigator of the 2011 Technology Project of Year TACNY Award-winning National Science Foundation Partnerships for Innovation Wireless Grids Innovation Testbed (WiGiT) project 2009-2014. Lee is inventor of edgeware, a new class of software for creating secure ad hoc overlay cloud to edge applications, services, and Things. Lee's research focuses on blockchain and cloud management of cyber-physically secure dynamic edge services, virtual markets and wireless grids, the global information economy, national and international technology policy, and Internet governance. Lee was previously Research Associate Professor of Computer Science, Associate Professor of International Information and Communication, and Director of the Edward R. Murrow Center at Fletcher School of Law and Diplomacy, Tufts University; Principal Research Associate, Lecturer, and Visiting Scholar at MIT; and Founder of the Internet Telephony Consortium (1996), which evolved into the Communications Futures Program,which continues at MIT. Lee is a member of the NIST Federated Cloud Public Working Group and the IEEE P2302 Intercloud standards working group and served on the Enterprise Cloud Leadership Council of TM Forum; as a member of IEEE P2030.4 smart grid interoperability task force. Lee is Founder and was a Member of the Board of Directors of Wireless Grids Corporation, 2004-2014. Lee was a Founding Member, Board of Directors, Summerhill Biomass Systems, 2007-2013. Lee is a Pioneer Member of the Internet Society since 1991. McKnight teaches and created graduate and undergraduate courses on Blockchain Management, Cloud Management, and Cloud Architecture among others. He has taught Information Security Policy (joint with Syracuse Law School/INSCT), Information Policy, and Telecommunications Regulation at Syracuse University. Lee lectures annually in the MIT Professional Education short course, 'Technology, Organizations, and Innovation: Putting Ideas to Work' since 1998. Lee's research interests span policy, economic, business and technical innovation in regional and global information economies. In addition to many peer reviewed articles in technical and policy journals and dozens of published chapters, Lee's academic work includes several books. Professor McKnight's next books on his ground-breaking research will be published in 2020 by Imperial College Press/World Scientific Press, Singapore and London. The first book in the World Scientific Press series, 'Cloud to Edgeware: Wireless Grid Applications, Architecture and Security for the "Internet of Things"' is with Tyson T Brooks. Lee's co-authored (with Peter Cukor) book 'Knowledge Networks, the Internet, and Development' was published by MIT Center for E-Business/Nabu Press, 2014 and 2011. McKnight's co-authored and co-edited books published by MIT Press include Creative Destruction: Business Survival Strategies in the Global Internet Economy;(2001,2002, Japanese translation by Toyo Kezai 2003; Chinese translation by Economic Sciences Press 2007);Internet Telephony;(2001), the award-winning The Gordian Knot:Political Gridlock on the Information Highway (1997,1999) and Internet Economics (MIT Press, 1997, 1998), a path breaking work that was the first to develop metrics for economic analysis of Internet transactions. McKnight was a Postdoctoral Associate, MIT School of Engineering, Center for Technology, Policy, and Industrial Development in 1990, and a consultant to the MIT Media Lab in 1989. Lee received his Ph.D. in 1989 from MIT; M.A. from the School of Advanced International Studies, Johns Hopkins University in 1981; and B.A. magna cum laude from Tufts University in 1978.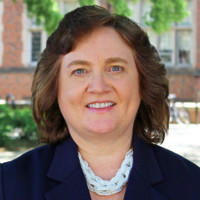 Lynne Parker
Assistant Director of Artificial Intelligence, White House Office of Science and Technology Policy
View Bio
Dr. Lynne E. Parker is Assistant Director of Artificial Intelligence at the White House Office of Science and Technology Policy (OSTP). She is detailing to OSTP from her position as Professor in the Department of Electrical Engineering and Computer Science at the University of Tennessee, Knoxville (UTK). She previously served as Interim Dean of the Tickle College of Engineering (TCE) at UTK, and before that was the Associate Dean for Faculty Affairs and Engagement in TCE. She also previously served at NSF as Division Director of Information and Intelligent Systems. She spent several years at Oak Ridge National Laboratory as a Distinguished Research and Development Staff Member. She received her PhD in Computer Science from the Massachusetts Institute of Technology.
Dr. Parker has been on the UT faculty since 2002, and is the founder of the Distributed Intelligence Laboratory at UT, which has conducted research in multi-robot systems, sensor networks, machine learning, and human-robot interaction. She has made significant research contributions in distributed and heterogeneous robot systems, machine learning, and human-robot interaction. Her dissertation research (1994) on ALLIANCE, a distributed architecture for multi-robot cooperation, was the first PhD dissertation worldwide on the topic of multi-robot systems, and is considered a pioneering work in the field. She has published extensively in these areas and has received numerous awards for her research, teaching, and service, including the PECASE Award (U.S. Presidential Early Career Award for Scientists and Engineers), the IEEE RAS Distinguished Service Award, and many UT Chancellors, College, and Departmental awards. Dr. Parker served as the General Chair for the 2015 IEEE International Conference on Robotics and Automation, as the Editor-in-Chief of the IEEE RAS Conference Editorial Board, and as Editor of IEEE Transactions on Robotics. She is a Fellow of IEEE and a Distinguished Member of ACM.
Nicol Turner Lee
Fellow - Governance Studies, Center for Technology Innovation, Brookings Institution
View Bio
Dr. Nicol Turner-Lee is a fellow in the program's Center for Technology Innovation and a contributor to TechTank. She comes to Brookings from the Multicultural Media, Telecom and Internet Council (MMTC), a national non-for-profit organization dedicated to promoting and preserving equal opportunity and civil rights in the mass media, telecommunications, and broadband industries, where she served as vice president and chief research and policy officer. In this role, she led the design and implementation of their research, policy, and advocacy agendas. Her most recent White Papers at MMTC included, "A Lifeline to High-Speed Internet Access: An Economic Analysis of Administrative Costs and the Impact on Consumers" (March 2016), "Guarding Against Data Discrimination in the Internet of Everything" (September 2015), "Refocusing Broadband Policy: The New Opportunity Agenda for People of Color" (November 2013).
Prior to joining MMTC, Dr. Turner-Lee was vice president and the first director of the Media and Technology Institute at the Joint Center for Political and Economic Studies, the nation's leading think tank on issues related to African Americans and other people of color. In this role, she led the technology research agenda that was focused on advancing digital equity and inclusion for historically disadvantaged populations. Her most notable work was her development of the first national minority broadband adoption study in 2009 that was later cited in the congressionally mandated Federal Communications Commission's National Broadband Plan. Her other publications there included, "Minorities, Mobile Broadband, and the Management of Chronic Diseases" (April 2012), co-authored with Dr. Brian Smedley and Joseph Miller; "Place Matters: The Debate over Broadband Availability" (2011); and, "Increasing Civic Engagement in the Digital Age" (2010) which was published by the Federal Communications Commission Law Journal.
In addition to these and other publications, Dr. Turner-Lee has been cited in the New York Times, Washington Post, San Francisco Chronicle, Communications Daily, Multichannel News, Washington Informer, among other print and online publications. She is also a widely sought expert and speaker on issues related to communications policies in media and at conferences, and she has testified before Congress. Dr. Turner-Lee was a two-time Digital Research Program Scholar as part of Time Warner Cable's Cable Research Program in Communications and recipient of countless recognitions, including the presentation of the Lifetime Achievement Award from the Rainbow PUSH Coalition (2015) and one of the Most Inspiring Women in Media from the Alliance of Women in Media (2014).
At the Center for Technology Innovation, Dr. Turner-Lee researches public policy designed to enable equitable access to technology across the U.S. and to harness its power to create change in communities across the world. Dr. Turner-Lee's research also explores global and domestic broadband deployment, regulatory, and internet governance issues. She is also an expert on the intersection of race, wealth, and technology within the context of civic engagement, criminal justice, and economic development.
Dr. Turner-Lee graduated from Colgate University magna cum laude and has a M.A. and Ph.D. in Sociology from Northwestern University. She also holds a Certificate in Nonprofit Management from the University of Illinois-Chicago. Dr. Turner-Lee is a Visiting Scholar at the Center for Gender Equity in Science and Technology at Arizona State University. She also serves on the U.S. State Department's Advisory Committee on International Communications and Information Policy (ACICIP). In her free time, Dr. Turner-Lee is active on the boards of various nonprofit organizations, including the Telecommunications Policy Research Conference (TPRC), the Washington Literacy Center, and STEM4US, which is committed to advancing diversity in the technology fields.