IGF-USA 2017 Plenary Session
Plenary Session | 3:15 p.m.
Where are all those Digital Dividends we expected from the Internet?
Remember the optimism we shared about how the Internet would deliver all sorts of "digital dividends" to advance global public interest? We imagined the internet could unite a diverse world with information sharing and social connections. We looked for broader and better education, economic opportunity, transparency, free expression, and productivity, too.
This panel will examine the extent to which these digital dividends have been delivered. And we'll discuss what's standing in the way of realizing the positive promises of a connected world.
We hailed the Internet as an enabler of economic liberty for all. So why isn't the Internet helping more people to earn from their skills and assets?
Revenge of the incumbents: how are legacy industries using state and local government as barriers to competition and opportunity?
How can the courts help break down barriers to economic opportunity?
Tele-health was a much hoped-for digital dividend, but federal reimbursement for these services is severely restricted. Why?
We imagined the internet would be a tool for transparency, enabling citizens to hold their governments and institutions more accountable. Has that happened?
Everyone believes that the internet enables free expression to quickly reach a global audience — but will that continue in the face of censorship? Will "fake news" undermine the credibility of online news?
The internet delivered on our expectation for connecting people, but single-issue silos of information seem to channel people into "echo chambers" with others who share their views. Is that hardening divisions in our society?
There seem to be plenty of Internet access choices, so why isn't every American online?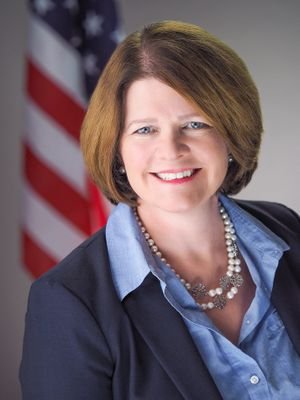 Maureen Ohlhausen
Commissioner of the Federal Trade Commission
View Bio
Maureen K. Ohlhausen was sworn in as a Commissioner of the Federal Trade Commission on April 4, 2012, to a term that expires in September 2018.
Prior to joining the Commission, Ohlhausen was a partner at Wilkinson Barker Knauer, LLP, where she focused on FTC issues, including privacy, data protection, and cybersecurity.
Ohlhausen previously served at the Commission for 11 years, most recently as Director of the Office of Policy Planning from 2004 to 2008, where she led the FTC's Internet Access Task Force. She was also Deputy Director of that office. From 1998 to 2001, Ohlhausen was an attorney advisor for former FTC Commissioner Orson Swindle, advising him on competition and consumer protection matters. She started at the FTC General Counsel's Office in 1997.
Before coming to the FTC, Ohlhausen spent five years at the U.S. Court of Appeals for the D.C. Circuit, serving as a law clerk for Judge David B. Sentelle and as a staff attorney. Ohlhausen also clerked for Judge Robert Yock of the U.S. Court of Federal Claims from 1991 to 1992.
Ohlhausen graduated with distinction from George Mason University School of Law in 1991 and graduated with honors from the University of Virginia in 1984.
Ohlhausen was on the adjunct faculty at George Mason University School of Law, where she taught privacy law and unfair trade practices. She served as a Senior Editor of the Antitrust Law Journal and a member of the American Bar Association Task Force on Competition and Public Policy. She has authored a variety of articles on competition law, privacy, and technology matters.
Ohlhausen lives in Virginia with her husband, Peter. They have four children.
Evan Swarztrauber
TechFreedom
View Bio
Evan Swarztrauber is Director of Public Affairs at TechFreedom, where he leads communications and outreach and hosts the Tech Policy Podcast, publishing over 180 episodes since its launch in January of 2016. Prior to his work at TechFreedom, he served as a communications staffer for a New York State Assembly member and worked on a variety of New York City political campaigns. He attended George Washington University where he earned his B.A. in Political Communication and minored in Journalism.
Evan has written articles and conducted interviews on a wide range of policy issues, including encryption, the sharing economy, and Internet taxes. His work has been published in Forbes, CapX, Watchdog, and other outlets. Recently, he participated in a television debate on Al Jazeera's The Stream, and organized and moderated a panel at the SXSW festival in Austin. Apart from tech policy, Evan can be found listening to classical music and cheering for the New York Rangers and Arsenal FC.
Daniel Castro
Information Technology and Innovation Foundation
View Bio
Daniel Castro is vice president at the Information Technology and Innovation Foundation (ITIF) and director of ITIF's Center for Data Innovation.
Castro writes and speaks on a variety of issues related to information technology and internet policy, including privacy, security, intellectual property, Internet governance, e-government, and accessibility for people with disabilities. His work has been quoted and cited in numerous media outlets, including The Washington Post, The Wall Street Journal, NPR, USA Today, Bloomberg News, and Bloomberg Businessweek. In 2013, Castro was named to FedScoop's list of the "top 25 most influential people under 40 in government and tech." In 2015, U.S. Secretary of Commerce Penny Pritzker appointed Castro to the Commerce Data Advisory Council.
Castro previously worked as an IT analyst at the Government Accountability Office (GAO) where he audited IT security and management controls at various government agencies. He contributed to GAO reports on the state of information security at a variety of federal agencies, including the Securities and Exchange Commission and the Federal Deposit Insurance Corporation. In addition, Castro was a visiting scientist at the Software Engineering Institute in Pittsburgh, PA, where he developed virtual training simulations to provide clients with hands-on training of the latest information security tools.
He has a B.S. in foreign service from Georgetown University and an M.S. in information security technology and management from Carnegie Mellon University.
Steve DelBianco
NetChoice
View Bio
As executive director of NetChoice, Steve DelBianco helps members to define and execute the tech agenda. Steve is an expert on Internet governance, online consumer protection, and Internet taxation, and has given testimony in 25 Congressional hearings and in more than one hundred state legislative hearings.
Steve is frequently quoted on technology issues in the media, including a segment on "60 Minutes" exposing barriers to innovation in residential real estate. Steve debated online taxes on CNN Situation Room, CNBC Larry Kudlow, PBS Nightly Business Report, CBS This Morning, and Marketplace Radio.
Steve is the elected policy chair for the ICANN Business Constituency. He's participated in all meetings of the UN's Internet Governance Forum (IGF) and is a lead organizer at the IGF-USA.
Before NetChoice, Steve was founder and president of Financial Dynamics, an IT consulting firm that he built to over $20 million in revenue by 1997, when it was acquired by a national firm. Steve holds degrees in Engineering and in Economics from the University of Pennsylvania, and an MBA from the Wharton School.
Robert Pepper
Head of Global Connectivity Policy and Planning, Facebook
View Bio
Robert Pepper helps lead Facebook's connectivity and technology policy activities focusing on new technology development, deployment and adoption. Pepper previously was Cisco's Vice President for Global Technology Policy for more than a decade working with governments across the world helping them develop their digital strategies and address areas such as ICT and development, broadband plans, IP enabled services, wireless and spectrum policy, the Internet of Things, security, privacy and Internet governance.
Pepper was Chief of the Office of Plans and Policy and Chief of Policy Development at the FCC for 16 years beginning in 1989 where he led teams designing and implementing the first U.S. spectrum auctions, developing policies promoting the development of the Internet, implementing telecommunications legislation, and planning for the transition to digital television. Before joining the FCC, Pepper was Director of the Annenberg Washington Program in Communications Policy. His government service also included Acting Associate Administrator at the National Telecommunications and Information Administration (NTIA) and initiating a program on Computers, Communications and Information Policy at the National Science Foundation. His academic appointments included faculty positions at the Universities of Iowa, Indiana, and Pennsylvania, and as a research affiliate at Harvard University. He chairs the U.S. Department of State's Advisory Committee on International Communications and Information Policy and has served on the board of the U.S. Telecommunications Training Institute, the U.S. Department of Commerce's Spectrum Management Advisory Committee and the UK's OFCOM Spectrum Advisory Board. Pepper received his BA. and Ph.D. from the University of Wisconsin-Madison.
Nilmini Rubin
TetraTech
View Bio
Nilmini Rubin is a vice president at TetraTech. She leads engineering and consulting projects to increase energy and internet access in developing countries. Previously, Nilmini served as the Senior Advisor for Global Economic Competitiveness at the U.S. House Foreign Affairs Committee where she directed technology, trade, finance and energy policy. On behalf of Chairman Royce, Nilmini spearheaded passage by the House of Representatives the Digital Global Access Policy Act of 2016 to promote internet access in developing countries. She drove unanimous passage of a law to increase access to electricity in Africa that serves as the framework for the United States' Power Africa initiative. Prior to this position, she advocated on cybersecurity policy for the Information Technology Industry Council, led international economics policy for the U.S. Senate Foreign Relations Committee, and served as the Director for International Finance at the National Security Council of the White House.
Nilmini's work has been highlighted in the Los Angeles Times, New York Times, Politico, Yahoo! and numerous international publications. She was named a Young Global Leader by the World Economic Forum, a "40 Under 40" Leader in International Development by Devex, and is a member of the Council on Foreign Relations. She was featured on HGTV's "Curb Appeal" and appeared briefly on Netflix's "House of Cards". Nilmini is the mother of three young girls and co-wrote a book with her oldest daughter entitled "How Carrots Became Orange."
Christina Sandefur
Goldwater Institute
View Bio
Christina Sandefur is Executive Vice President at the Goldwater Institute. She also develops policies and litigates cases advancing healthcare freedom, free enterprise, private property rights, free speech, and taxpayer rights.
Christina has won important victories for property rights in Arizona and works nationally to promote the Institute's Private Property Rights Protection Act, a state-level reform that requires government to pay owners when regulations destroy property rights and reduce property values. She is also a co-drafter of the Right to Try initiative, now law in over half of the states, which protects terminally ill patients' right to try safe investigational treatments that have been prescribed by their physician but are not yet FDA approved for market.
Christina is the co-author of the book Cornerstone of Liberty: Private Property Rights in 21st Century America (2016). She is a frequent guest on national television and radio programs, including Fox Business's Stossel, Dick Morris, and The Armstrong & Getty Show. Her litigation and policy work has been featured in National Review, The Washington Post, Human Events, The American Spectator, and The Weekly Standard, among others. She has provided expert legal testimony to various legislative committees and is a frequent speaker at conferences.
Christina is a graduate of Michigan State University College of Law and Hillsdale College.